Weekends are often cheat days, and rightly so, but what if you want to continue healthy, virtuous eating at brunch in Dublin on a Saturday or Sunday? Major props to you and we love to see fruit filling up brunch plates and making hungry tums happy across Dublin. Forget run of the mill granola and boring fruit salads – here are some of the healthiest brunches in Dublin and they're bursting with colour, flavour and freshness, loaded with the best in fresh fruit!
Gluten-free Power Porridge, Avoca, Suffolk Street
https://www.instagram.com/p/2-elqajHF5/
Just look at this! Who knew Avoca were serving such stunning dishes at breakfast and brunch let alone lunch or dinner. A literal stone's throw from Grafton Street, fill up on their gluten-free power porridge topped with fresh fruit and nuts before tackling a bit of shopping at the weekend. Dreamy!
BodyByrne Turbo Granola, Balfes, Balfe Street
https://www.instagram.com/p/BBE5tStn_NS/
Work like a dog, train like an athlete…. eat like a slob? Nah, we didn't think so either. For those with temples for bodies, tackle this bad boy at Balfes just off Grafton Street
Acai Smoothie Bowl, Eathos, Baggot Street
We love Eathos' ethos first and foremost, and of course there dishes are out of this world. Weekends are never quiet in this gleaming white café on Baggot Street and we can see why: saddle up to this Acai smoothie bowl topped with fresh and dried fruits, homemade granola and edible flowers and wash it all down with a silky smooth coffee. Cannot go wrong!
Roast Fig Salad, Eden Bar & Grill, South William Street
https://www.instagram.com/p/BDV1j96RDtb/
Fruit doesn't only have to be in sweet breakfast and brunch dishes, we love roasted fruit paired with sharp, peppery, creamy or preserved flavours, and Eden Bar & Grill in Dublin's Creative Quarter serves a mean roast fig, rocket, walnut and goat's cheese salad at the weekends. Dig in!
Fruit & Bee Pollen Chia Bowl, Yogism George's Arcade & Dawson Street
https://www.instagram.com/p/BD5Kkl7slyQ/
They say to eat healthy and stay trim, eat the rainbow. This Yogism dish is like a rainbow inside a cup with chia pudding soaked in homemade nut milk (with maca and cinnamon) topped with banana, fresh berries, yoghurt and bee pollen. Drool!
Caramelised Grapefuit, Super Miss Sue, Drury Street
https://www.instagram.com/p/6KLhGoGU23/?
We're not saying go to SMS and only order the caramelised grapefruit, but it's a fantastic start. Sharp and sweet in every mouthful, this is the perfect opening act or side to a blow-out brunch with a group of friends. They also do unlimited top-ups of filter coffee; give yourself a good two hours.
Chia Pudding & Green Juice at Alchemy Juice Co., BT2 Grafton Street
Keeping the fashion set fuelled from their perch atop BT2 on Grafton Street, Domini Kemp's Alchemy Juice Co. isn't all fresh-pressed juices and bulletproof coffees (though it's a good start!), they also have healthy breakfasts, sweet treats and salads to satisfy everyone's tastebuds. This happy, healthy and wholesome chia pudding comes bursting with flavour from mango, coconut and cardamom whilst you can also get sour cherry chia pudding or blueberry and linseed ketogenic porridge. Glowing from the inside out, right?
Spring Bircher, Sister Sadie, Harrington Street
https://www.instagram.com/p/BBcPgIiBOt5/
Spring bircher muesli at Sister Sadie. Imagine being served that before your very sleepy eyes on a Saturday morning.
Spiced Pancakes & Compote at Slice, Stoneybatter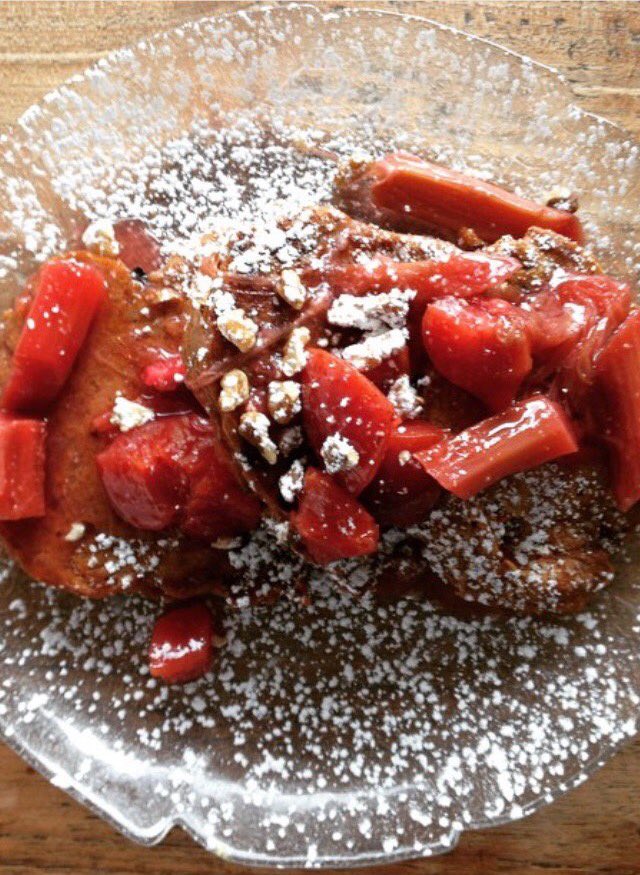 Starvin' in Stoneybatter? Stop by Slice and indulge in these carrot and walnut pancakes (made with spelt flour and almond milk) with citrus curd, banana or poached fruit on top. You may just stretch to seconds it's that good!
Fruit & Nut Proats & Smoothie, Póg Bachelor's Walk
https://www.instagram.com/p/8ur0ufB3RI/
Proats are protein oats to the uninitiated and at fruit-loving Póg along Bachelor's Walk these fly out the door daily, and we can see why. What a tempting little bowl on a Saturday morning!
https://twitter.com/EandCdublin/status/688702432109551616
The name doesn't do it justice but this is the fruit salad of your dreams. Lashings of sharp natural yoghurt, drizzled with honey, scattered with nuts and jam packed with freshly-sliced fruit. What's not to love? If we were you, we'd recreate this in the office with some of our fruit from your weekly Fruit People deliveries.
American Sweet Pancakes, Brasserie Sixty6 George's Street
Sometimes American-style pancakes are all that will do and these are pretty sensational from Brasserie Sixty6 on South Great George's Street.
Coconut Yoghurt Breakie Special, 3FE Grand Canal Street Lower
https://www.instagram.com/p/BD5F13aCgF2/
These may be only available at 3FE weekdays for now (we've petitioned them to put them on the brunch menu, don't worry!) this is a beaut of a dish to jump out of bed for in the mornings. Homemade coconut yoghurt topped with gorgeous freshly-sliced fruits, poached rhubarb, toasted coconut and nuts with micro herbs and flowers. Come for the incredible coffee, stay for this little stunner!
Brunch Platter at Herbstreet, Hanover Quay
As they say themselves, it's "all you need to start the day" and this mighty platter at Herbstreet will do just that. Work your way from left to right beginning with Greek yoghurt, organic honey and Paddy O's granola chased with a bowl of gorgeous fresh fruit, followed by home-baked ham, Irish cheese, sweet chilli relish and freshly-baked breads. Whopper!
Protein Pancakes, Urban Health, Ranelagh
Got to give props to our friends Urban Health and their deadly protein pancakes which are ever on the go from their café in Ranelagh! Read more about them in our Urban Health interview.
Quinoa Porridge Special, Foodie Cafe IFSC
Newbie in the IFSC, Foodie Café is more lunch than brunch, but every weekend they shake up the specials board with beautiful blow-ins like this dark chocolate quinoa porridge topped with banana, berries and sliced, roasted almonds. Delish!
🍉🍇🍓🍐🍒🍊🍌
Brunching like a boss! Let us know where you try out on Twitter or Facebook! Still feeling fruity after all that? Book a Fruit People delivery and make sure your office is stocked every week with the freshest fruit from the market.